Patrice Alexander, LPC, MAC, CPCS | Chief Executive Officer
For over 25 years, Patrice Alexander, LPC, CPCS, MAC has worked in the behavioral health field in a variety of roles, specializing in addiction treatment. Beginning her career in clinical research, she transitioned into direct client care when she started working at MARR in 2002 as an Assessment Counselor. She eventually went on to supervise that department. She also served as a Family Counselor and was eventually promoted within that department as well to Clinical Coordinator of the Family Program. In 2016 she began serving as MARR's Clinical Director, a role that she held until April 2020, working as Clinical Director at Pyramid Family Behavioral Health and Arise Recovery Residences before returning to MARR as CEO in May 2022.
Shahzad Hashmi, MD, DFAPA | Chief Medical Officer
Dr. Shahzad Hashmi is the Chief Medical Officer and founder of Salveo Integrative Health, Inc. and the Salveo Foundation, Inc. He completed his medical degree from Dow Medical College in Karachi, Pakistan, where he specialized in internal medicine and surgery. He moved to the United States and completed his residency at Howard University Medical School. While there, he served as the Chief Resident and received his medical degree in Psychiatry. Dr. Hashmi received two years of additional training at Emory School of Medicine, where he received a prestigious fellowship in geriatric medicine. Dr. Hashmi is a Board-Certified Psychiatrist, who has been treating clients of all ages for over seventeen years.
A. Umair Janjua, M.D. | Psychiatrist for Men's Recovery Center and Women's Recovery Center (Traditions)
Dr. Janjua is board-certified in General Psychiatry by the American Board of Psychiatry and Neurology. He is a native of Atlanta and has trained extensively in psychopharmacology and in various psychotherapeutic modalities. After completing his residency training in General Psychiatry at Emory University School of Medicine, Dr. Janjua completed an additional year of training in Forensic Psychiatry at Emory and has a diploma in Executive Coaching from Emory University's Goizueta Business School. He also received the Walter Wellborn Endowed Fellowship in Psychiatry. Dr. Janjua holds an adjunct faculty appointment with the Emory University School of Medicine. 
Matt Erwin, CACII | Director of Residential Services for Men's Recovery Center and Women's Recovery Center (Traditions)
Matt has been working in substance abuse treatment since 2001, and he joined the staff of MARR 8 years ago. He is a Georgia Certified Risk Reduction Instructor and a DBHDD certified clinical evaluator. His areas of focus are relapse prevention and anger management. He is passionate about instilling hope in the hopeless, helping build communities that foster change and growth, and watching clients reunite with friends and family.
Kristen Render, MSW | Professionals Program Director for Men's Recovery Center and Women's Recovery Center (Traditions)
Kristen earned her Bachelor's and Master's degree in Social Work from the University of Georgia. Kristen began her work at MARR in 2016 as a Clinical Assessment Counselor. Over time in her role working with clients and families, she discovered a passion for helping our professional clients with some of the unique challenges they face while navigating their treatment and recovery process. Kristen now oversees our professional comprehensive evaluations, additional clinical services specific to professionals, and advocacy for professionals as they re-enter their careers. Kristen is passionate about clients participating in excellent clinical care so they can create a solid recovery foundation for every aspect of their lives.
Erica Welsh, MFT, APC, AMFT | Family Program Coordinator for Men's Recovery Center and Women's Recovery Center (Traditions)
I graduated from the University of Georgia with a B.A. in Anthropology, and then, after a brief stint in the tech world, continued to Richmont Graduate University to complete a Masters of Arts in Marriage and Family Therapy with a concentration in trauma counseling. I enjoy being with people through a range of issues and concerns, but specifically enjoy getting to support families as they figure out their relationships with each other. I love that MARR continues to stay committed to its relational foundations in how we provide treatment to our clients as well as how the staff supports each other.
Bob Day, MA, LPC | Director | Men's Recovery Center
Bob started as an intern at MARR in 2014 and then moved into the role of Primary Counselor after completing his degree at Richmont Graduate University. He specializes in breaking down denial in young adult clients and integrating counseling and spirituality. He uses a collaborative, non-judgmental, insight-oriented approach that helps clients connect how their past traumas, relationships, and experiences have molded how they interact with their lives in the here and now. He is passionate about helping people reconnect with their values and with one another.
Doug Brush, CACII | Group Therapist | Men's Recovery Center and Professionals Group
Doug has been a  member of the National Association of Alcohol and Drug Addiction Counselors (NAADAC), and has served as a board member of the Georgia Council on Substance Abuse (GCSA). He also served as Chairman of the Ethics Committee for Georgia Addiction Counselors Association (GACA). Doug has also been Chairperson for the Standards Committee for the Georgia Association of Recovery Residences (GARR). For more than 40 years, Doug has served MARR in a variety of positions, including CEO and Director of the Men's Recovery Center. He now works part-time and leads groups at our Men's Recovery Center.
Todd Valentine, LCSW | Primary Counselor | Men's Recovery Center
Todd has over 15 years of clinical experience in the field of addiction, and he has been at MARR for over 12 years. He specializes in the integration of mindfulness, and he is passionate about helping men find joy in recovery and practice vulnerability that brings them out of isolation and into community. Todd leads clients in mindfulness practices, guided meditations, and recreational activities to reconnect with their bodies and learn to recognize emotions.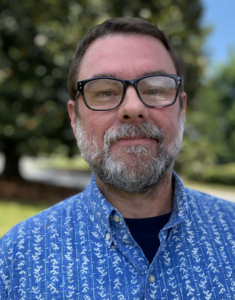 Matthew Reese, APC, NCC | Residential Manager | Men's Recovery Center
Matthew is a Licensed Associate Professional Counselor (APC) in Georgia and a National Certified Counselor (NCC). His work as a Residential Manager has allowed him to develop and conduct groups exploring the disease model of addiction, which in turn affords him the opportunity to indulge his passion for ongoing study of the impact of addiction on the brain and, in turn, the cognitive, emotional, and behavioral facets of the disease. As a person in recovery himself, the most gratifying aspect of his role at MARR is his constant contact with clients throughout their journeys in recovery, and watching change begin to unfold in their lives and relationships. After spending more than two decades running his own business, Matthew returned to school and graduated Summa Cum Laude with a BA in Psychology from Pfeiffer University followed by earning a Master of Arts in Clinical Mental Health Counseling in 2019, followed by a second MA in Addiction Counseling in 2020, from University of the Cumberlands in Williamsburg, KY. 
Mark Anderson, MS, APC, NCC | Primary Counselor | Men's Recovery Center
As a professional counselor and a person in recovery, Mark has always gravitated toward working with addicts and alcoholics. Mark believe MARR has the perfect approach: long-term treatment in a residential setting that employs the therapeutic community model combined with participation in a 12-step peer-support recovery group. Mark is passionate about helping individuals who struggle with addiction to move past their shame and guilt, to help them reach out and re-establish genuine human connections. First, with those uniquely qualified to understand the nature of their self-imposed exile – other addicts and alcoholics. Then, with their loved ones who have watched and suffered, desperate to help but unable to do so.
Janet Hodges, MS, LPC, ACA | Director | Women's Recovery Center (Traditions)
Janet joined the MARR team as Primary Counselor for MARR's Right Side Up program for three years. She began her role as Director of MARR's Women's Recovery Center (Traditions) in March 2020. Janet specializes in women's issues and trauma work, and she is trained in EMDR. She is passionate about the benefits of community for the healing process and the use of the 12 steps to learn how to live a life of freedom and recovery. She believes it is important to address how trauma informs addiction and use treatment modalities that support treatment for co-occurring disorders including anxiety, depression, and disordered eating. 
Shannon Sarkar, MA, LPC |
Residential Manager | Women's Recovery Center (Traditions)
Shannon began working at MARR in 2017 as an intern at MARR's Right Side Up program and after completing her internship was hired as a full-time Primary Counselor. She began working at MARR's Women's Recovery Center (Traditions) in 2020 where she has worked as a Disordered Eating Therapist, Primary Counselor, and Residential Manager. Shannon specializes in addressing our women clients' needs around trauma, disordered eating, personality disorders, and spiritual abuse. She received her Master's in Clinical Counseling at Richmont Graduate University in 2018 and her Bachelor's from Toccoa Falls College in Counseling Psychology. Shannon is also currently working on her PhD at Regent University.
Jordan Detweiler, CACI | Residential Manager | Women's Recovery Center (Traditions)
Before starting as a MARR employee 2015, Jordan began his recovery from substance abuse as a MARR client in 2013. In 2015, he began his coursework and supervision to become a Certified Addiction Counselor (which he completed in 2017) while also working as a Resident Assistant. He also worked as an Assessment Counselor at MARR for 4 years, and a Residential Manager at the Men's Recovery Center for a year. He began his role as a Residential Manager at our Women's Recovery Center (Traditions) in 2021. He is also currently been pursuing a Psychology degree at Georgia State University. He specializes in helping clients implement the therapeutic community model in the residences—the foundational element in MARR's approach to treatment.
Hannah George, LMSW | Primary Counselor | Women's Recovery Center (Traditions)
Hannah joined the MARR clinical team as an Assessment Counselor in June 2020 before becoming Primary Counselor at the Women's Recovery Center (Traditions) in December of 2021. Hannah has extensive  experience working with families in crisis both at the Division of Family and Children Services and at a domestic violence shelter. She has also provided marriage and family therapy at a clinic in Athens. Hannah is passionate about helping people get the care and resources they need in any circumstance. Because addiction can affect the well being of not only the client, but also the family system as a whole, she is passionate about seeking out ways that restore health and dignity to clients and families that she encounters.
Sade Andrews, MFT | Family Counselor at Women's Recovery Center (Traditions) and Men's Recovery Center
Sade started at MARR as intern at MARR's Right Side UP Program in 2017 before becoming a Family Counselor for the Men's Recovery Center and Women's Recovery Center (Traditions). She specializes in assisting families with understanding that addiction is a family disease and learning how they can break the patterns of addiction in the family. She loves that in her role she can introduce families to recovery and a sense of hope when they realize that they no longer have to feel alone. She received her Masters in Marriage and Family Therapy from Northcentral University and her Bachelor's  in Psychology from Georgia Southern University with a minor in Child and Family Development.